Andrew Browning as George Michael
Everybody knows George Michael. He's a global icon, an international artist of the highest order who has sold over 100 million albums. He's topped charts from Austria to Australia. He's sold-out stadiums from Tokyo to Tampa. He re-defined popular music and went on to build a groundbreaking, substantial and enormously popular body of work.
Andrew Browning is the definitive tribute to George Michael, offering audiences the experience of watching, hearing and feeling the atmosphere masterfully recreated by the worlds number one tribute artiste. Andrew began his career over 10 years ago and not long after was appearing in the finals of the ITV1 show "Stars in their Eyes".
Andrew's amazing show covers all of the hits of Wham! and George Michael's solo career such as Club Tropicana, Wake Me Up Before You Go Go, Freedom, Everything She Wants, Last Christmas, I'm Your Man, The Edge of Heaven, Careless Whisper, Outside, Fastlove plus many more.
i'm every whitney - the best of whitney houston by kieshia chun
Staring the amazing voice of Kieshia Chun, the show will reunite audiences with the one and only Miss Whitney Houston!
A must see show for all Whitney Houston fans. This iconic live performance celebrates Whitney's incredible life, work, and the everlasting legacy of the most awarded female artist of all time!
Kiesha will take the audience on a magical rollercoaster ride through three decades of nostalgic hits that include Saving All My Love For You, How Will I Know, Greatest Love Of All, I Wanna Dance With Somebody, So Emotional, Where Do Broken Hearts Go, I Will Always Love You, My Love Is Your Love, So Emotional Baby, Million Dollar Bill, One Moment In Time and many more!
Kieshia's shows encourage the audience to sing, dance and enjoy the best of Whitney. Kieshia began her exciting musical voyage of artistic discovery in 1996. Since then, she has used constant collaboration and exploration to shape the signature sound that echoes that of the late, great Whitney Houston.
So join Kiesha for an evening of fun, laughter and nostalgia as I'm Every Whitney takes you on an unmissable ride to remember the Queen of the Divas.
All the massive 80's anthems from Madonna, Culture Club, Madness, Duran Duran, Prince, Bananarama, Spandau Ballet, Michael Jackson,  Human League, Depeche Mode, UB40, Erasure plus Many More!
* Members prices apply to Leisure and Sports & Leisure members only
** Leisure and Sports & Leisure members can enter the Ballroom at 6.45pm on this evening.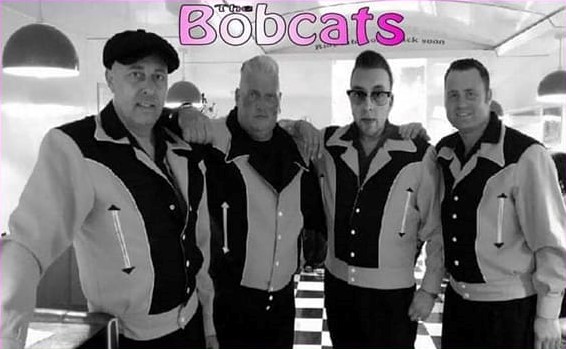 The Bobcats
door_front
Pay on doorPay on door:Yes
27th August, 2023 - 7:00 pm to 11:30 pm
The Bobcats